WILDERNESS FIRST AID CLASS OFFERED!!
The Los Padres Council is pleased to once again offer a Wilderness First Aid Course. This course is now required for all units that attend one of the National High Adventure Base Programs (Philmont, Sea Base, Northern Tier). It is also a great course to take for all units that are going on a backcountry trip.

Wilderness First Aid is invaluable to you, the unit or trek leader, as it goes well beyond your basic first aid. When you are hours from available emergency medical services, you will be really thankful that you took this course! This course is 16 hours in length, but invaluable in the resources you will learn to use.

The course will be held at the Scout House, Atascadero Lake Pavilion, 9315 Pismo Street, Atascadero on Saturday, September 29th and Saturday, October 6th, from 8:00 to 5:00 both days; You must attend BOTH DAYS.

No meals will be provided.

A pre-requisite for the course is current (taken within 2 years) certification in Adult CPR and AED (automatic external defibrillator). You will need to bring a copy of your card to the course. ALL participants must be at least 16 years of age and bring a current BSA Medical, Parts A & B & C

Costs for the Wilderness First Aid course: Los Padres Council Scouters $125.00 per person; Non Los Padres Council Scouters $150.00; Non-scout community members $175. Costs include the course, course materials, supplies, and certification card.

PLEASE NOTE THE MINIMUM AGE FOR THE COURSE IS 16.

PRIORITY WILL BE GIVEN TO LOS PADRES COUNCIL SCOUTERS FIRST, THEN OTHER COUNCIL SCOUTERS, THEN NON-SCOUT COMMUNITY MEMBERS

REGISTRATION MUST BE RECEIVED BY FRI 31 AUGUST 2018

You must attend all course sessions and participate fully - this is a physically demanding course.

To sign up, go to the council website, www.lpcbsa.org and click on the link to the Wilderness First Aid Course.

For more information: e-mail George Brown at kf6pbl@hotmail.com or call him at 805 459 4225.
---
To download a copy of this flyer for yourself or to share with others,

click here

.
To go directly to the online registration and payment page, click here.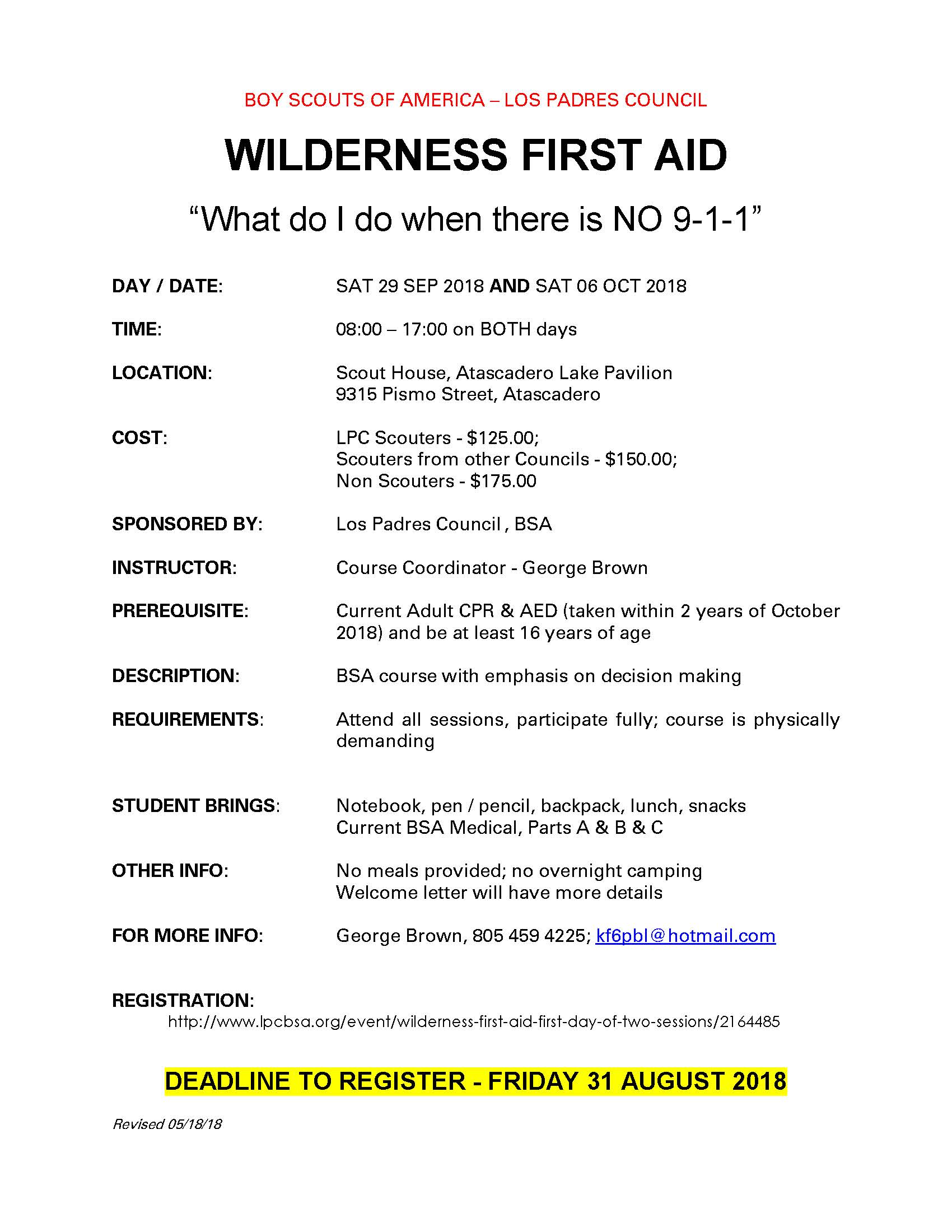 Sign-up early as we can only take 10 students for this program.
---
For information about future courses:
Los Padres Council offers this course twice annually in October and April. For more information about a future course, contact Scott Oldenburg at 967-0105 or scott.oldenburg@scouting.org. or e-mail George Brown at kf6pbl@hotmail.com.
NOTE: Area businesses, national retailers, and colleges also offer this course which fulfills the requirements for BSA High Adventure Programs. But history has proven that our program is the cheapest one offered locally and deals more with issues that would impact a unit at a BSA High Adventure Base.