REVISED SAFETY RESOURCES
Fellow Scouters:

A number of BSA Safety Publications were updated in 2015. Please review the list below and download these publications for your unit's safety program planning:
AND, a relatively new publication, to assist you as a UNIT leader, in planning fun and safe UNIT sponsored aquatic activities – "Aquatic Supervision" (BSA No. 34346 / 2013 Printing) – which you can purchase at your local Service Center. This is an excellent publication to support your Unit activities.
Below are some of the superb BSA resources from this new publication.
---
THE SAFE ZONE
Safety Checklists Developed
BSA has issued three checklists to help units preparing for a camping trip and an event. All leaders are encouraged to download and copy these files and use them in the planning of future. These documents will be great supporting documents to prove due diligence has been used in planning any activity. The third document is a revision to the Meeting Space Inspection form.
Fellow Scouters,


The BSA National Office has two new SAFETY CHECKLISTS to help us deliver the promise that is Scouting in the safe and healthful environment we all desire. These can assist all staff and volunteers in planning and carrying out our campouts and other events in a safe manner. These checklists were developed by the National Office with the input of safety professionals and Scouters from around the nation.

I encourage you to use these for EVERY campout and event - let each and every one of us make this part of the "safety culture" that we work so hard to support. AND, don't forget that you have the Guide To Safe Scouting as an additional resource.

Please feel free to contact me at any time (kf6pbl@hotmail.com or 805 459-4225) with any questions or concerns regarding safety / health / risk management here in the Los Padres Council.

Yours in FUN Scouting,
George Brown
Risk Management Committee Chair
Los Padres Council, BSA
---
ACCIDENT INSURANCE COVERAGE FOR UNITS
IN THE LOS PADRES COUNCIL
We are often asked to provide "certificates of insurance" for other Boy Scout Councils when units from the Los Padres Council are attending either their summer camps, or other activities. What these councils are asking for is whether or not your unit is covered by some type of accident insurance for your members as a result of participating in authorized Scouting activities while at their camp or other outing.
The answer is "YES" you are covered by the Health Special Risk Insurance for accidents and sickness as a result of participating in an authorized Scouting activity. PLEASE NOTE: This insurance is "SECONDARY" in nature. That means that it is secondary to any other insurance that is in place (group insurance through an employer, private insurance, Medicare, Medi-Cal, military insurance, etc.). If there is no other insurance in place, the HSR plan will become primary subject to the policy limits. Youth and adult members of Scouting units sponsored by the Church of Jesus Christ of Latter Day Saints ARE NOT COVERED by this plan, but are covered through the Church's insurance plans.
PLEASE READ THE "COVERAGE IS EXCESS OF ALL OTHER INSURANCE OR HEALTHCARE PLANS IN FORCE" section found in the middle of the page of the claim form.
Prior to submitting any claims through the HSR plan, please read carefully the page on "How to Submit a Claim". If you do not follow these instructions, the claim may be delayed in being paid, or may be denied.
The Los Padres Council, Boy Scouts of America is pleased to offer this benefit at no cost to our Scouting units. It is fully funded through your Friends of Scouting contributions.
Should you have any questions regarding this insurance, please contact Scott Oldenburg, our council's Risk Manager at (805) 686-5167.
Description of policy,

click here

to download.
---
Here are some other documents issued from the Los Padres Council on how to make your Scout meetings and activities safer.
Near Miss Incident Information Report

Tour Permit

- As of Spring 2017, tour permits are no longer required. Each unit leaders is bound to observe the principles as outlined in the Guide to Safe Scouting.
---
Youth Protection
Protecting our youth is our greatest concern. Here are some resources to assist you.

---
Health and Safety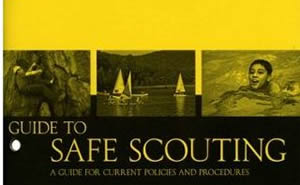 The safety of each child is important to Los Padres Council. All volunteers with the Council need to be aware of specific policies of the Boy Scouts of America. These policies are contained in the Guide to Safe Scouting. Click on this link to download a current version of the Guide to Safe Scouting.
---
BSA Safety and Health Publications
BSA has a great wealth of safety publications and newsletters on the National website. Click on any link below to go to the BSA's Safety and Health storehouse.
---
BSA Policy on Winter Sports Safety
While it is only August, and school is just beginning, we want to advise of an upcoming change to the Winter Sports Safety section of the Guide to Safe Scouting.
Currently Section 3 states that "Suitable clothing for the activity and environment should be worn art all times, and equipment should include gloves and helmets when appropriate."
The new wording of Section 3 reads as follows: "Appropriate personal protective equipment is required for all activities. This includes the recommended use of helmets for all participants engaged in winter sports such as sledding and other sliding devices. The use of helmets is required for the following activities: downhill skiing, snowboarding, and operation of snowmobiles (full-face helmets)."
We would also like to remind you that when units engage in winter sports, they should only use designated areas where rocks, tree stumps, and other potential obstacles have been identified and marked, cleared away, shielded, or buffered in some way.
---
SAFETY FAQ's
Recent safety and health issues brought to our attention:
Question 1. Our pack wants to go to Camp French and do archery and bb guns. We have a trained BSA rangemaster. Is this permissible?
Answer 1. No, please see the passage below from the Guide to Safe Scouting which indicates that these activities may only be done at Council and District sponsored and staffed functions with the proper trained personnel and safety standards in force.
---
Guns and Firearms
Cub Scouting Standards
Youth members of Cub Scouting are permitted to participate in shooting activities named here only.
Archery and BB gun shooting are restricted to day camps, Cub/Scout Webelos resident camps, council-managed family camping programs, or to council activities where there are properly trained supervisors and all standards for BSA shooting sports are enforced. Archery and BB gun shooting are not to be done at the pack level.

Cub Scouts are not permitted to use any other type of handgun or firearm.
Guide to Safe Scouting, page 33