---
---
Welcome new Scouts! Please come check out one of our three Scout Trading Posts! We are stocked and ready to serve the families in our communities!

Last Chance!! Hurry in to your local Trading Post before the 25% off Cub Scout Switchback Pants sale ends!
---

---
Boy Scout Handbook
The 13th Edition of the Boy Scout Handbook has arrived at all three of our Trading Posts! Come pick one up today!

---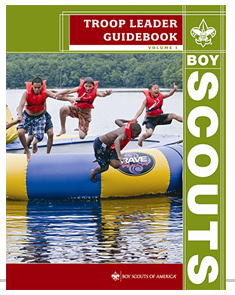 Price $12.99
Recommended for both first-time and experienced Scout leaders, this handbook provides a thorough overview of the responsibilities and rewards of leading a troop. Topics include troop meetings, uniforms and insignia, community service, awards and recognition programs, and much more.
---
During the year your local Scout store has a vast array of supplies for particular seasonal events.
January - Pinewood Derby

February - Scout Sunday & Scout Sabbath

February - Blue and Gold Dinners

March - Scouting for Food

April - Youth Protection Month DVD's

April - Camporee

May - Mothers' Day

June - Summer Camps (Cub Scout and Boy Scout)

June - Father's Day

September - Webelos Woods

September - Uniforms (Cub Scouts, Webelos, and Boy Scouts

November & December - Holiday Gifts
Please visit www.scoutstuff.org for items you wish to see in our Trading Posts!
---
Los Padres Council
Serving Scouting in Santa Barbara and San Luis Obispo Counties
4000 Modoc Road
Santa Barbara, CA 93110
(805) 967-0105; Fax: (805) 967-5094
---

Council Service Centers

Santa Barbara Service Center
Main Administrative Office
4000 Modoc Road
Santa Barbara, CA 93110
Office: (805) 967-0105
Fax: (805) 967-5094
Hours: 10:00 am - 5:00 pm
Monday thru Friday

Closed Saturday & Sunday

Santa Maria Service Center
Santa Maria Town Center Mall
229 Town Center Mall (2nd Floor)
Santa Maria, CA 93454
Office: (805) 925-1955
Fax: (805) 925-9206
Hours: 10:00 am - 5:00 pm
Monday, Wednesday, Friday

Hours: 10:00 am - 6:00 pm
Tuesday and Thursday

Hours: 10 am to 1:30 pm;
Saturday

Closed Sunday

Atascadero Service Center
7350 El Camino Real, Suite #201
Atascadero, CA 93422
Office: (805) 461-4018
Fax: (805) 461-4021

Hours: 10:00 am - 5:00 pm
Tuesday and Wednesday

Hours: 10:00 am - 6:00 pm
Thursday

Lunch: 2:00 - 2:30 daily

Closed Saturday, Sunday, Monday, Friday

---