Fredman Hall
Vision Statement:
"To provide Boy Scouts and other youth serving organizations a natural environment and safe haven, conducive to fulfilling and furthering the aims of Scouting while emphasizing all aspects of the outdoor program."
Location:
Camp Mabel French is located on seventy-two acres just 12 miles east of Arroyo Grande and immediately behind Lake Lopez. This quiet and peaceful setting is an ideal facility for day use, short-term camping and training events. Wild turkeys, quail, deer and other wildlife are common sites around camp. Boy Scouts, Girl Scouts, youth groups, community organizations, and churches can reserve this beautiful camp for use.
There are 10 named campsites at Camp French all named after tribes of the American Indians. The campsites are: Comanche, Apache, Chumash, Osage, Pawnee, Shawnee, Black Foot, Kiowa, Cheyenne, Sioux, Cherokee, Shoshone, and Arapaho.
History:
Through the foresight and perseverance of a number of key community leaders including Ted Maino and Howard Mankins, the area today known as Camp French was set aside for development as a youth camp. The Los Padres Council, Boy Scouts of America who have long-term self-renewing lease on the property with San Luis Obispo County, manages the camp. The significant financial contributions of Dr. Edison French allowed construction of the camp to begin in 1973. Mabel French was his mother.
Members of the Lions Clubs of San Luis Obispo County were responsible for most of the original grading, campsites, and fire pits. They also funded and were responsible, with the cooperation of the Carpenters Union Apprentice program, for the construction of Fredman Lodge, our main dining and meeting facility.
Camp French includes the Van Norman Nature Trail, constructed and maintained in memory of Dr. Van Norman. Camp also features a Walk of the Eagles, which was an idea put forth by one of our former camp rangers, Jim Brightwell. Our fire bowl was updated in memory of an Eagle Scout.
Facilities:
The facilities available at Camp Mabel French include:
Fredman Hall – meeting rooms, full kitchen and restroom

Main Room - seats 100 for meals, meetings, or training events
Full Kitchen - walk in refrigerator, commercial stove and double convection ovens, new stainless steel sinks, garbage disposal, and a commercial dishwashing equipment

Campsites - 10 improved sites with fire rings and nearby water
Rest Rooms - located throughout camp
Camp Fire Bowl - for outdoor meetings and campfire programs
Hiking Trails - Low and High adventure trails
Hilltop Chapel - for religious services
Van Norman Nature Trail - highlights local plant life
Shower Facilities - for men and women
Walk of the Eagles - surrounding Brightwell Field honoring Eagle Scouts.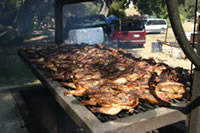 Chicken on the BBQ!