September 2011

A newsletter for all valued Scouters.

Volume 1, Issue 7

---

Join Scout Surge 9/11!
The Scout Surge 9/11 really does make a great service project for your Journey to Excellence goals. Bring Scouts and non-Scouts together to show respect for those involved with the events of September 11, 2001.
All Scouts are encouraged to serve in their communities from September first to tenth, 2011, using the suggested service projects and posting them to web and social media channels. In addition, these activities should be recorded in the Journey to Excellence service program. On September 11, Scouts are encouraged to gather as groups and invite non-Scout friends to watch the movie, New York Says Thank You, which tells the story of the first responders to the New York City terrorist attacks and which features Scouts from the Little Sioux tornado tragedy.
New York Says Thank You (Movie Trailer)
"Every Firefighter in New York has always wanted to say "Thank You" for the kindness and humanity that flooded our city after 9/11. This amazing movie is a visual representation of the love and appreciation we have for the wonderful people of this country."
Sal Cassano - Commissioner FDNY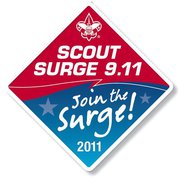 Both the Scout Surge 9/11 flier and the Facebook page have some very good ideas for Scouts to do as they participate to show their respect for those involved in the September 11, 2001 events.
Additional Information:

---
Fall Scout Recruitment Week
Week of September 19 – 24, 2011
Unit Leaders!
It's time to get ready for GREAT fall recruitment. The official recruitment week for the council is September 19-24. Since many of our units draw from the same schools and neighborhoods, it makes sense to focus on that week for public service announcements, flyers in schools and general promotions.
However, if that week does not work for your unit, there is never a wrong time to to recruitment more Scouts.
To learn more about planning your recruitment and the promotional resources available to you, please contact your local Scout Service Center.
Fall Recruitment Resource Check List:
Participate in the Gorilla Patrol Marketing Program
Identify Schools, Parks, Locations to Promote Your Round Up
Order Recruitment Materials From Your District Executive
Plan Your Round Up Agenda
Ensure That You Have Sufficient Youth and Adult Applications
Submit All New Applications by September 31
Recruitment Materials Available Through Your District Executive:
Flyers
Posters
Bookmarks
Door Hangers
Parent Postcards
Stickers
Yard Signs
Additional Resources:
---
D.A.R.E. and Second Class Requirement 9A
As you may be aware many Police and Sheriff's Departments have done away with D.A.R.E. programs at local schools because of the current fiscal crisis in government. Many Troops have relied upon D.A.R.E. to provide the necessary program to meet Requirement 9A for second class. Unit leaders (both adult and scout) should make plans to provide this information at a Scout meeting.
Boy Scout Second Class Rank requirement 9a
Participate in a school, community, or troop program on the dangers of using drugs, alcohol, and tobacco and other practices that could be harmful to your health. Discuss your participation in the program with your family, and explain the dangers of substance addictions.
During our two sessions at Rancho Alegre Summer Camp, I was able to query some of the newer Scouts about D.A.R.E. programs in their community, and found that these were no longer offered. We did not have a module built into our curriculum to offer this information this year. We only reach a small segment of our total Scout population at summer camp. Therefore it is imperative that units pick up the ball and offer the necessary program in modules to address drug, alcohol. tobacco, and other forms of abuse to fulfill the requirements.
Wayne Rascati
Program Director, Rancho Alegre Summer Camp
---

Additional Information: Boy Scout 2nd. Class Rank Requirement 9a
Additional Information:
Additional Information:
For more questions or more information on the initiative call DEA at 202-307-7936 or email Demand.Reduction@usdoj.gov.
Spurs & Spice - Gourmet Tailgate Party!
Saturday, September 10
5 p.m. to 8 p.m.
La Purisima Mission
Guaranteed
to be a good time with honorary hosts, Jay and Niki in the Morning from Sunny Country 102.5
Feast on Gourmet Tailgate food, beer, and wine. Try your luck at cowboy games. How about a round of cow bingo anyone?
Take a chance on some incredible live and silent auction items. All this and a beautiful night at the La Purisima Mission on Saturday, September 10!
Tickets run $80 individual, $150 a couple. Sponsorships available!
For more information, contact Ventura DeLeon at 805-925-1955 or vdeleon@bsamail.org. To register for this event or find out more about it, click here.
This event benefits Scouting in the Los Padres Council. Your support is very much appreciated!
Yours in Scouting,
Ventura DeLeon
District Executive, Live Oak District
vdeleon@bsamail.org
805-925-1955
All New 2011 Popcorn Campaign!
Our annual popcorn sale is the only council/national endorsed product sale. The campaign is designed to support units in financing their ideal year of Scouting. Trail's End Popcorn Company has teamed up with the Los Padres Council to offer more incentives, more prizes, more sales support to ensure that your popcorn sale is the best ever!
Trail's End Additional Incentives
Those Scouts that sell $400 will receive a pair of tickets to a UCSB or Cal Poly sporting event in November.
Scouts who sell over $1,500 will also receive a $50 gift card.
Scouts who sell over $2,500 will accrue an additional 6% of their sales into a special scholarship
or LDS mission account set up by Trail's End.
2011 Popcorn Commission Plan
Base commission for all units 40%
If you reach $15,000 in total unit sales, receive 43% commission.
Important Dates
Show & Sell:
Unit Orders Due to District – August 30
Unit Pick Up Orders – September 17
Super Saturday/Return Day - October 22
Take Orders:
Unit Orders Due – October 25
Unit Pick Up Orders/Payment Due/Prize Orders Due – November 12
Additional Information:
Council Director of Field Operations, Justin Jepsen is the Council Coordinator of this year's popcorn campaign. If you have questions regarding Popcorn, contact your District Popcorn Kernel, District Executive, or Justin Jepsen
---
District & Council Nominating Committees - Call to Service
The Los Padres Council is bringing together nominating committees at both the district and council levels. It is through the hard work of our nominating committees that Scouting identifies and calls to service the parents, former volunteers, adult Eagle Scouts and other community leaders needed to fill leadership roles. Quality volunteer leadership at both district and council levels helps ensure our Scouting program is of the highest quality, is financially sustainable, has growth in membership and provides important unit service.
The District & Council Nominating committee members should be objective and courageous in selecting those best qualified to fill District & Council leadership positions. They should also be able to personally approach and secure the acceptance of the desired candidates. This committee may be kept busy all year to fill vacancies and recruit Scouters as needed.
Nominating Committees:
The council nominating committee has one of the most important assignments in the council. This committee submits to the council a slate of council officers as well as executive board members and members-at large for the ensuing year. The personnel of the council nominating committee must be carefully selected. This committee should never become "ingrown," and new members should be included each year
A district committee is responsible for increasing the effectiveness of Scouting throughout a district through the achievement of district goals defined as part of their Journey to Excellence. Thus, the task of the district nominating committee selecting a slate of competent officers and members at large for the next year is an extremely important one.
Council and District leaders are responsible helping every unit and district complete their Journey to Excellence, thereby increasing the quality of our Scouting program in every youth member's life. Additionally, it will maintain lists of potential candidates and meet periodically throughout the year to assess those candidates.
If you are interested in serving on your district or council nominating committee or if you know members of the community who would be good candidates for serving in a leadership role in our Scouting program, please contact Scout Executive, Rebecca Fields at rfields@bsamail.org or 805-967-0105.
---
Chess Merit Badge Coming Your Way Soon
The BSA's newest merit badge, Chess, will be launched in September with some exciting events designed to raise interest and awareness. The kickoff event will take place at the grand opening of the new Chess Hall of Fame on September 8-10.
The merit badge pamphlet is being printed and is expected to be in Scout shops in late August. Keep an eye on Scout Wire in the coming weeks as more information is released!
Daniel G. says:
July 27, 2011 at 1:40 am
I am Daniel G. of Troop 4, Los Padres Council, and I am a United States Chess Federation member as well as an Eagle Scout. I have taught at summer chess camps and have had numerous private students as well as won state and national titles. I am on the top chess players' list for the nation and wanted to let you know that if you need anyone to help promote this new badge, chess is my passion and I would love to be involved. Thank you.
Additional Information:
---
The Best Practices Portal
The Best Practices Portal is a new idea designed to give Scouters from all across the country a place, a venue, an electronic portal to share their good ideas (Best Practices) on how to make their local Scouting program more successful. Best practices help you work smarter, instead of harder. :-)
"The purpose of this portal is to assist the organization in sharing best practice examples. The content contained herein is not endorsed by the Boy Scouts of America as corporate policy. It is intended solely for the use of members as an idea-sharing portal."
The Best Practices Portal is a place where you, and other good Scouting volunteers like you from all across the nation, can share ideas that have helped make your local Scouting program more successful. If you have found a better way to do your job in Scouting, share it on the Best Practices Portal with all the volunteers in Scouting.
This portal will only be as important as you make it, by sharing your good ideas or best practice. Why reinvent the wheel? Check out the good ideas being posted in the Best Practices Portal they may help you work smarter, not harder! Then add your good ideas to the portal.
Additional Information:
---
Update on Required Leader Training
The leadership training philosophy of the Boy Scouts of America is to provide adult leaders with fundamental information about the aims and purposes of the movement, as well as specifics about their particular role in Scouting.
A trained leader is knowledgeable and confident in the role being performed. The knowledge and confidence of a trained leader are quickly sensed by Cub Scouts, Boy Scouts, Varsity Scouts, or Venturers and are a positive influence on their lives.
The Los Padres Council has developed new standards on required training of unit leaders that will become effective in 2013. Starting in January, 2013, all units will be required to have unit leaders trained at the following basic leader level:
The Committee Chair of the unit (all Packs, Troops, Teams & Crews) will need to be trained in their role
The Direct Contact Leader (all Cubmasters, Scoutmasters, Coaches & Advisers) will need to be trained in their role
In addition to these roles, 50% of the adults registered in a unit will need to be trained in their responsibilities. (This would include members of the committee, Den Leaders, Assistant Scoutmasters, Assistant Coaches, Assistant Advisers.)
The goal here is for all units to be trained with the fundamental information about the aims and purposes of the movement, as well as specifics about their particular role in Scouting
Training is available online and in person based on which roles you fill. Basic leader Training currently available online at MyScouting includes:
Youth Protection Training - for Boy Scout, Varsity Scout and Cub Scout leaders
Youth Protection Training - for Venturing leaders
This is Scouting
Leader Position-Specific - Tiger Cub
Leader Position-Specific - Wolf Cub
Leader Position-Specific - Bear Cub
Leader Position-Specific - Webelos
Leader Position-Specific - Cubmaster
Leader Position-Specific - Pack Trainer
Leader Position-Specific - Pack Committee
Troop Committee Challenge
Your Districts training team will deliver Leader Specific Training for positions that are not currently available online. Varsity & Venture Leader Specific Training which will be conducted by the Council Training Team. Basic Adult Leader Outdoor Orientation (BALOO), Introduction to Outdoor Leader Skills (IOLS) and other programs like this will continue to be under the direction of the Council Training Team.
Your unit commissioner will have access to records that will reflect how each unit is progressing through 2012. If you have any concerns or questions, please contact your District Training Chairs, Brad Ross, Council Training Chairman or Lynn Johnson, Vice President of Program.
---
BSA 2010 National Youth Forum -
Dworkin and Ross
"Role Models & Volunteers"
Dax-Devlon Ross, J.D., is an author and the copublisher of Outside the Box Publishing, LLC, and the editor of the arts and culture blog The HNIC Report. Aaron Dworkin, Ed.M., is the executive vice president of After-School All-Stars (http://www.afterschoolallstars.org).
Sponsored by Strategic Plan Goal 411 - Dynamic & Relevant Program
View what national experts say about youth wants and needs that will help the BSA achieve this key objective of the Strategic Plan to provide Dynamic & Relevant Programs for our Scouts. You can also view each speaker's highlights at the National Youth Forum site
.
Information from scout-wire.org
---
Quotation of Month
"Anyone who stops learning is old, whether at twenty or eighty. Anyone who keeps learning stays young. The greatest thing in life is to keep your mind young."

Henry Ford
---
Web Site of the Month
D.A.R.E. America

D.A.R.E. is a substance abuse prevention education and much more!

This year millions of school children around the world will benefit from D.A.R.E. (Drug Abuse Resistance Education), the highly acclaimed program that gives kids the skills they need to avoid involvement in drugs, gangs, and violence.

D.A.R.E. was founded in 1983 in Los Angeles and has proven so successful that it is now being implemented in 75 percent of our nation's school districts and in more than 43 countries around the world.

D.A.R.E. is a police officer-led series of classroom lessons that teaches children from kindergarten through 12th grade how to resist peer pressure and live productive drug and violence-free lives.
---
Video of Month
You May Be Healthy, But Are You ScoutSTRONG?

In this episode of The Buzz, National Commissioner Tico Perez tells us about the BSA's SCOUTStrong, a new initiative that promotes healthy living through partnerships, educational content for Scouts and an activity challenge for BSA employees to "Walk the Walk."
---

Council Service Centers

Los Padres Council, Inc. #53
4000 Modoc Road
Santa Barbara, CA 93110
Office: 805-967-0105
Fax: 805-967-5094
Contact Los Padres Council
Santa Maria Service Center
228 Town Center East (2nd floor)
Santa Maria Town Center Mall
Santa Maria, CA 93454
Office: 805-925-1955
Fax: 805-925-9206
Atascadero Service Center
7350 El Camino Real, Suite #201
Atascadero, CA 93422
Office: 805-461-4018
Fax: 805-461-4021

---

The September edition of the Los Padres Council News is sent to 1063 Scouting supporters.

emails-subscribe@.org or emails-unsubscribe@.org

The Los Padres Council News is brought to you courtesy of Rick Pushies.