| | | |
| --- | --- | --- |
| October 2011 | A newsletter for all valued Scouters. | Volume 1, Issue 9 |
Gorilla Patrol at Work!

In This Issue

Council Leadership - Key 3

Council President
Laurie Tamura

Council Commissioner
Rick TerBorch

Scout Executive
Rebecca Fields

Council Service Centers

Los Padres Council, #53
4000 Modoc Road
Santa Barbara, CA 93110
Office: 805-967-0105
Fax: 805-967-5094
Contact Council

Santa Maria
228 Town Center East
(2nd floor)
Santa Maria Mall
Santa Maria, CA 93454
Office: 805-925-1955
Fax: 805-925-9206

Atascadero
7350 El Camino Real, Suite #201
Atascadero, CA 93422
Office: 805-461-4018
Fax: 805-461-4021

Useful Links

More News

---



Guiding our future with feedback.

---

---



Pedro has teamed up with Let's Move Outside! See all the fun things you can do while getting important exercise outside.

---


Order Launches Get Kids
to Camp Partnership.

Partnership Resources:


http://www.oa-bsa.org/

The above picture shows the good work of a Gorilla Patrol member. This car belongs to Harry Holden of Camino Real District and was parked in Pismo Beach public parking. It was photographed by another Scouter leaving the Camino Real District Awards Lunch on Saturday, September 10.

The Los Padres Council, Boy Scouts of America is looking for a few good Scouts, leaders, parents, alumni – just about anyone who loves Scouting, to earn their right to join the Gorilla Patrol! The goal is to encourage "Random Acts of Scouting" across the central coast of California that promote the Scouting program.

What is the Gorilla Patrol?
It is a simple grass roots effort - to simply tell everyone that Scouting is alive and well. From the "Join Cub Scouts" picture above you can see how easy it is to do the work of the Gorilla Patrol.

If you believe in Scouting and believe your son is better off because of his involvement in Scouting maybe you and your son can help Scouting succeed by joining the Gorilla Patrol. Read the Gorilla Patrol Pamphlet to find out how to join the Gorilla Patrol. You also will find more simple ideas to help market Scouting in this pamphlet. You may even have a few good ideas yourself that you can share with your Gorilla Patrol. Join the Gorilla Patrol and help tell your community that Scouting is alive and well. How you tell your community your good Scouting message, is up to you. The results can be very impressive.

---

2011 Top Hands Conference

The 2011 Top Hands conference for Scouting professionals was recently held in San Antonio, Texas. We want to share some importanttopics from this conference with our volunteers: The Main Thing, BSA Operating Principles, Strategic Plan and Journey to Excellence.

To view all the video presentation availabe from the 2011 Top Hands Conference, please visit the Top Hands page posted on the Scout Wire site. The presentations currently available include the opening session on The Main Thing facilitated by the Key 3 (Rex Tillerson, Tico Perez, and Bob Mazzuca); motivational message from Life Scout Ben Myers; the amazing journey of Council Operations; and an overview about the Chief Scout Executive Advisory Board.

The following concepts were presented during the opening session of the conference, as described in The Main Thing handout:

The Main Thing

Serve more youth with a quality Scouting program.

What does a quality Scouting experience look like for a young person?
What are the biggest challenges we face in achieving the main thing?
How can we overcome those challenges?

BSA Operating Principles

These principles should guide our thinking and actions as we work to achieve the main thing.

Think Strategically - Act Boldly
Practice Authentic Leadership
Assume the Best in Each Other
Think and Act in the Greater Interest of the BSA
Impact Youth as One Family, One BSA
Live and Honor the Scout Oath and Scout Law

Which of these exemplifies you?
Which principles can you aspire to better develop?

Strategic Plan

The National Council and local councils each have strategic plans with unique objectives and goals.

A strategic plan is your future vision statement and road map.

Journey to Excellence

Key performance indicators of the operations needed to achieve the main thing.

This page provides a collection of videos from the Top Hands Conference.
http://scout-wire.org/top-hands/

This video "Making the Connection" highlights the President of the Boy Scouts of America, Mr. Rex Tillerson talking about the future of Scouting.

---

"Tool Time" Pow Wow

"Tool Time" – equipping Cub Scout leaders with useful tools, ideas, and resources.

For all Cub Scout leaders, parents, and den chiefs!

When: Saturday, November 5, 2011

Where: Santa Maria LDS Stake Center, 908 E Sierra Madre, Santa Maria, California 93454

Time: s

8:30 a.m. registration and gathering
8:45 a.m. Opening
9:00 a.m. classes start
4:00 p.m. end

Featuring:

6 sessions of hands-on classes
Scheduled time between classes for discussions & networking
Lunch with chat time and displays of resources
Den Chief Training is NOT being offered. Den Chiefs are however, encoutage to attend other Pow-Wow sessions with their den leaders.

Cost:

$15 for sign ups by October 15,
$25 for October 17 to 29 sign ups
$35 after and at door
Those signing up after October 29 are taking their chances!

Register at www.lpcbsa.org, but you will need to mail in a class registration list.

Pow Wow Flier & Class Schedule

---

BeAScout.org

You've asked for it, and now it's here—additional enhancements have been made to BeAScout.org to assist councils as they manage leads and units in the BeAScout system this fall. A PowerPoint presentation has been created to support council executive staff on how to manage and download unit leads and unit pin reports in an Excel spreadsheet. (Access this and other presentations on the Youth Recruitment page of scouting.org.)

https://beascout.scouting.org/

Enhancements that are now available include:

Potential new Scouts can search prospective units using only a ZIP code
New district number and unit columns allow users to see which district a unit is associated with on the unit lead administration/management screens
Executives will know the status of unit pins whenever a unit is activated/deactivated
Leads can now be exported to Excel spreadsheets
All active/inactive units per district can be browsed, and reports can be exported to an Excel spreadsheet or PDF file

Use the resources on this web page to learn about the BeAScout campaign and prepare for fall recruiting.

http://www.scouting.org/Training/Adult/Supplemental/BeAScout.aspx

---

Los Padres SCOUTStrong PALA Challenge

The SCOUTStrong Presidential Active Lifestyle Award Challenge will help you add activity to your life, and reward you when you do!

This challenge is for everyone associated with the Boy Scouts of America, including Scouts, Venturers, Parents, Volunteers, Council Staff, Board Members, Friends of Scouting, and BSA Alumni.

To earn the SCOUTStrong PALA Challenge Award, you are required to meet a daily activity goal of 30 minutes a day for adults and 60 minutes a day for kids under 18 for at least five days a week, for six out of eight weeks. Stick with the program and you'll earn an award in less than two months.

---

Chess Merit Badge Requirements

The United States Chess Federation (USCF) provided the primary contributing writers for the Chess Merit Badge pamphlet.

You can find the requirements on the National web site.

The Chess Merit Badge Launch was launched on September 10 at the Chess Club and Scholastic Center of Saint Luis, Missouri. Several special appearances and activities have been planned for the launch event, including a visit by Eagle Scout and NASA astronaut Greg Chamitoff, a human chess

Earning this merit badge lets you play your way to enhanced chess skills! Learn all the fundamentals of chess plus advanced strategies and tournament play. Soft cover, 96 pages.

The video:


Chess Merit-Badge patch
Item #613249 $2.29


Chess Merit Badge Pamphlet
Item #613560 $4.49

---

Cubmobile Derby

The Cubmobile derby is a thrilling pack activity that is fun for the entire family. Planning for the
derby should begin several months in advance so Cub Scouts and adults from each den can build a racer.
That's right! Each den builds its own Cubmobile, with plenty of adults to help supervise construction. There is no engine; the Cubmobile runs by gravity.

The derby is run in heats. Each den has one racer, and each boy in the den races in the car once. Usually, a ramp is used to help start the cars, and they are propelled downhill to the finish line by the force of gravity.

The Cub Scout Leader How To Book explains many of the details of how to construct a cubmobile and how to conduct a Cubmobile Derby.

We also have some local Scouters in Cub Scout Pack 93 with several years of experience conducting their pack Cubmobile Derby. Paul Rodarte, Cubmaster and pack webmaster has put together a terrific page detailing the Cubmobile Derby Pack 93 has conducted for several years.




Nick Green, 6, of Santa Maria, left, and Sam Anderson, 7, of Orcutt, race in the Cubmobile Derby




at the Broadway Street parking garage in Santa Maria on Saturday, August 13, 2011

Brian Anderson had both his sons who are in Pack 91, chartered to American Legion Post 534 in Orcutt win trophies. Sam pictured above took home a third place trophy for his class. His brother Charles won first place in his class. Brian had this to say about the Cubmobile Derby day, "We had fun with a purpose and practiced good sportsmanship, fair play, followed instruction and made friends today. A great Scouting day!"




In this picture a Cub Scout races a Santa Maria Police Officer. The Cub Scout won!

The Santa Maria Times ran a very nice article, written by Phil Klein about the 2011 Cubmobile Derby – Cub Scouts get Mobile. Plans are underway for Pack 93 to conduct their Cubmobile Derby again in 2012. Pack 93 graciously invites other packs to participate in their Cub Mobile Derby. Stop by the Pack 93 booth at the Scout-O-Rama in February 2012 and let them know if you are interested in having your Cub Scouts participate in this fun event. Or you can contact Pack 93 via e-mail.

---

Commissioners

Many good things are happening in the Los Padres Council and in our Commissioner Staff. District Commissioners are looking to recruit more good Scouters to serve as Unit Commissioners. Unit Commissioners serve in vitally important roles as friends to the units they serve. Unit service is improving as more good Scouters volunteer to serve as commissioners.

The Main Thing in Scouting is to, Serve more youth with a quality Scouting program. We need more good volunteers to serve in the very important role of Unit Commissioner so we can serve more youth while providing all our Scouts a quality Scouting program.

Unit commissioners should —

Have excellent people skills
Have a Scouting background or be fast-track learners
Know and practice Scouting ideals

If you are interested in serving as a Unit Commission, please contact me by e-mail at: rterborch@earthlink.net

Yours in Scouting,
Rick TerBorch
Council Commissioner

---

Commissioner Award 100% Boy's Life (2011)

To recognize and thank commissioners who effectively promote the good reading and good Scouting of BOYS' LIFE.

Why is a 100% Boys' Life unit important to Scouting?

Boys' Life subscribers advance in rank faster and more often than non-subscribers--more than twice as fast as non-subscribers.
Boys' Life goes into the home and is read by parents and brothers and sisters who become more supportive of Scouting because of Boys' Life.
Boys' Life has long been recognized for its "retention factor." Scouts who subscribe to Boys' Life stay in Scouting longer than non-subscribers, generally more than twice as long.

Qualification

Unit Commissioners: Serve at least two (2) 100% BOYS' LIFE UNITS.
Roundtable Commissioners: Present and/or assist in presenting at least five (5) BOYS' LIFE roundtable promotion features during 2011.
Administrative Commissioners: Have 50 percent or more of the total of packs, troops, and teams in the area of service be 100% BOYS' LIFE UNITS, and/or experience a 10 percent growth in 100% BOYS' LIFE UNITS.

The Award
Fully-embroidered three-inch patch enclosed in an attractive presentation folder. The two stars on the patch represent Good Reading and Quality Scouting.

Best Method to Promote 100% Boys' Life Units
Encourage all units to adopt the Unit Budget Plan, No. 524-426. "Be sure that the annual budget plan for each of your packs, troops and teams includes the cost of BOYS' LIFE for EVERY

http://www.scouting.org/filestore/magazine/pdf/BL_Commissioner_Award_2011.pdf

Boys' Life is a strong mix of exciting stories and valuable information that encourages good reading.

Boys' Life is the silent assistant,
helping Scouting leaders and parents
help Scouts to succeed.

---

BSA to Offer NetSmartz Internet Safety Program

The National Center for Missing & Exploited Children is making available its Internet safety program, NetSmartz, to the BSA to teach Scouts and their families how to make responsible decisions both online and in real life. The BSA is asking all Scout leaders to incorporate the NetSmartz materials into their programs and to distribute information directly to parents.

The program uses videos, games, and activity cards to educate children on how to recognize potential Internet risks and to empower children to help prevent them from being exploited.


The Safety Sandwich Principle

Like the bread that holds together
a sandwich, discipline and
qualified supervision are the
foundation and cover that makes
Scouting Safety a reality.

---
Troop 60 scholarship fulfills the dream of the late Dennis Collins

Above: Scholarship Committee members, from left, Jim Madden and Ron Harmon, Sally Davis representing Thomas Salisbury, Matthew Kudija (scholarship recipient), Kathy Collins representing Dennis Collins, Troop 60 Scoutmaster Steve von Dohlen and Scout leader and Matthew's father, David Kudija.
By Judy Bedell
Scout's honor. Two small words that mean so much. They especially meant a lot to former Troop 60 Scoutmaster, Dennis Collins. Collins passed away after a valiant battle with cancer in March 2008. It was his dream and desire to establish an ongoing scholarship for the Eagle Scouts in his troop. He had made a personal promise to accomplish that goal.
Starting with a generous donation from former Scoutmaster Thomas Salisbury's family, Collins was determined to see the scholarship set up correctly and in a manner that would sustain itself for years to come. When Collins realized his illness was taking a toll, he became very focused on accomplishing the task he set out to do.
"Sometimes when I would go visit Dennis, he was very weak, but he always managed to ask about the scholarship and what progress was being made," said current Scoutmaster Steve von Dohlen."At the end, after Dennis' passing we knew it had to happen because that's what leaders do.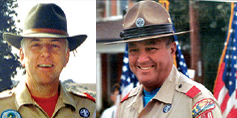 Former Troop 60 Scoutmasters,
Tom Salisbury & Dennis Collins

That's what leadership is, taking on a task and seeing it through to the end," said von Dohlen.Collins leadership extended far beyond his role as Scoutmaster. Collins was the former general manager of Treana Winery and a board member of the California Wine Institute in San Francisco. He was also a former board member of the Paso Robles Wine Country Alliance and in 2005, he was recognized by his peers as the Paso Robles Wine Industry Person of the Year honoring his outstanding dedication, leadership and passion for the industry. Continued: Link to the complete articleThis article is published with permission of Mr. Bob Chute, Owner/Publisher of the Paso Robles Magazine. http://www.pasoroblesmagazine.com/
---
BSA 2010 National Youth Forum - Alison Bryant
"

Boys and Play"
Alison Bryant, Ph.D., is an author and the president and founder of Play Science Lab, LLC.
Boys or "Digital Natives" Want to:
Be Active! - Playing outside is the #1 thing boy do in their unstructured non tech time
Be Connected - Boys need to feel a sense of belonging
Make Friends - a sense of community needs to be built into use of technology
Be challenged - Boys love a challenge it gives them a sense of mastery!
Be Empowered - Boys want to feel they have explored, discovered and found things on their own
Be Efficacious - Boys need to feel like they can make a difference and create change
Be Accepted - A sense of belonging is obtained by joining Scouting
Be Healthy -
Be Respected -
Boys want to be safe - Safety is a critical element in boys growing through exploration
What would a boy do if he had one more hour of spare time each day? The top two things boys say are:
Spend more time with my friends in person!
Spend more time with my family in person!
View what national experts say about youth wants and needs that will help the BSA achieve this key objective of the Strategic Plan to provide Dynamic & Relevant Programs for our Scouts. You can also view each speaker's highlights at the National Youth Forum site
.
---

Quotation of Month

"Yesterday is gone. Tomorrow has not yet come. We have only today, let us begin."

Mother Teresa (1910-1997)

---

Web Site of the Month

About the Campaign

Nothing But Nets is a global, grass roots campaign to raise awareness and funding to combat malaria, one of the largest killers of children in Africa. With a $10 contribution, Nothing But Nets provides individuals – from CEOs to youth, professional athletes to faith leaders – the opportunity to join the global fight against malaria by sending a net and saving a life.

Getting Involved

At NothingButNets.net you will find resources on malaria, toolkits that you can download to help raise awareness and organize fund raising events, and instructions on how to create or join a NET-Raiser team. For information on employment opportunities with the UN Foundation's Nothing But Nets campaign, please visit our employment page.

Sign up as a NET-Raiser team captain to recruit your friends, family and co-workers to help support you in raising money for bed nets to prevent malaria in Africa. As a team captain, you can invite people to join your team so they too can ask their friends to sponsor them within your team, or simply ask for sponsors.

Long-lasting, insecticide-treated bed nets are an easy and cost-effective method to help prevent malaria.
Bed nets prevent malaria transmission by creating a protective barrier against mosquitoes at night,
when the vast majority of transmissions occur.

For more information about Nothing But Nets, visit http://www.nothingbutnets.net.

Working together, we can cover Africa with life-saving bed nets.

---

Video of Month

Lord Baden-Powell's Grave Receives Facelift

In an unusual departure from common practice, six Scouts from France opted to show their respect to world Scout movement founder Lord Baden Powel using soap, water and scrubbing brushes. They washed Powel's Nyeri gravesite with water and soap as a sign of their love and gratitude. Nyeri is scheduled to host the African Scouts Council General meeting next month.

---

When Baden-Powell died in 1941, the Dean and Chapter of Westminster Abbey offered a place for him between the graves of the Unknown Warrior and David Livingstone. After careful consideration, the family declined this great honor as not conforming to B-P's expressed wishes. In place of a grave in Westminster Abbey, a memorial reading, "Give thanks for ROBERT BADEN-POWELL 1857-1941 Chief Scout of the World, OLAVE BADEN-POWELL 1889-1977 World Chief Guide" was placed in the nave of the Abbey and is flanked by the flags of the Scouts and Guides. B-P was buried in the Africa he loved with full military honors accorded to his rank of Lieutenant-General and with a guard of Boy Scouts European, African, and Asian. Today, his grave in the tiny cemetery of Nyeri, Kenya, is marked by a simple stone that carries his name and the Boy Scout trail sign for . . .

"I have gone home."

---

emails-subscribe@lospadresbsa.org or emails-unsubscribe@lospadresbsa.org

The Los Padres Council News is brought to you courtesy of Rick Pushies.