August 2011

A newsletter for all valued Scouters.

Volume 1, Issue 5

---
Wilderness First Aid Course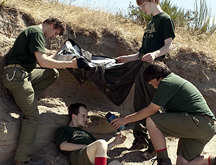 Wilderness First Aid (WFA) is the assessment of and treatment given to an ill or injured person in a remote environment where definitive care by a physician and/or rapid transport is not readily available. A BSA-led task force has developed WFA doctrine and curriculum. You must be certified through any of the providers listed below. Participants will learn how to assess, treat, and (when possible) contain emergencies within the scope of their training. Youth and adult Scout leaders over age 14 are invited to participate and earn their certification.
The BSA wants to do all it can to promote awareness of this course, and help as many Scouts and leaders as possible take the course and earn certification as a WFA practitioner.
Why is this important?
"When an emergency occurs in the wild, the goal must be to provide the greatest good for the greatest number in the shortest time, and do no harm in the process."
This course goes far beyond what you may know as "first aid." While it contains substantial medical information and teaches skills required for medical emergencies in the wild, the deeper purpose is to train participants to manage acute situations. The bottom line is this: Better decision-making at the incident scene miles from base facilities can save valuable time and human resources. It can save lives, too. If you wish to download the curriculum, please register here

first; we would like to know the number of Scouts and Scouters who are interested.
Who is it for?
Youth and adult Scout leaders are encouraged to take this first-aid course, which offers a management dimension that most curriculums fail to address. Scout leaders will likely find it the most valuable program they'll ever take.
Boy Scouts of America > Scouting Safely > Training > Wilderness First Aid—What Is It and Why Should You Care? >Frequently Asked Questions
Wilderness First Aid - Camp French
Saturday, October 8 from 8 a.m. to 6 p.m.

Saturday, October 15 from 8 a.m. to 6 p.m.
The Risk Management Committee of Los Padres Council is offering an October 2011 session of Wilderness First Aid at Camp French in Arroyo Grande. The course is on October 8 and October 15 from 8:00 am to 6:00 p.m. on both days. Participants must attend both sessions in their entirety to be certified.
Prior to the course, the applicant must have an Adult CPR and AED certificate issued within the last two years. Applications are now being accepted for the program on line by clicking on this link to the registration page

. Cost is $100 for Los Padres Council Scouts and Scouters. Those from Other Councils ($125) and Non-Scouters ($150) may register after June 30, 2011, in order to provide Council participants the first opportunity to register. The class is limited to 10 students. Participants must be at least 16 years old and must complete a final exam with an 80% or better score.
NOTE: The Boy Scouts of America's Risk Management Advisory Panel granted the Los Padres Council a grant of $1,000 to support our Wilderness First Aid course. This grant helped reduce the course cost and train the instructor.
If you have any questions, please contact instructor George Brown at (805) 528-7214 or kf6pbl@hotmail.com.
Yours in Scouting,
George Brown
Los Padres Council, Risk Management Chair
---


Eagle Scout Fact Sheet
Eagle Scout Rank
To earn the rank, a Boy Scout must complete the following requirements before the Scout's 18th birthday:
Progress through the ranks from Tenderfoot Scout through Life Scout:
Earn 21 merit badges, including 10 which are required
Serve six months in a troop leadership position.
Plan, develop, and give leadership to a service project for any religious organization or any school or community.
Take part in a Scoutmaster conference.
Successfully complete an Eagle Scout board of review.
Boy Scouts with disabilities may qualify for the Eagle Scout rank by fulfilling alternative requirements as determined by their council.
Eagle Rank Requirements

Troop 105 Advances 4 Eagle Scouts!
Boy Scout Troop 105 is proud to announce four Scouts advanced to Scouting's highest rank - "Eagle Scout".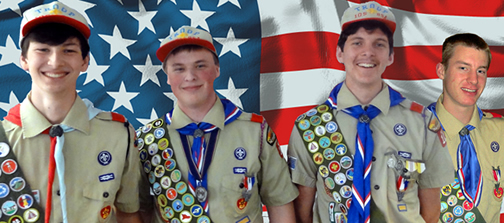 Eagle Scouts: Patrick Schlesselman, Thomas Schiferl, Andrew Leicht, Bren Vallier
Eagle Scout is the highest advancement rank in Boy Scouting.
In 2010, 56,176 Scouts earned the rank of Eagle Scout.
Around 5 percent of all Boy Scouts earned the Eagle Scout rank in 2010.
In 2010, the average age of boys earning the Eagle Scout rank was 17 years of age.
From 1912 to 2010, more than 2 million Boy Scouts earned the Eagle Scout rank.
The Eagle service projects for our most recent Eagle Scouts were:
Bren Vallier built an arbor for Isla Vista Elementary School as a parent waiting area.
Patrick Schlesselman set up the tractor portion of the History of Agriculture Museum for Stowe House.
Thomas Schiferl installed a security camera system for Saint Raphael's church.
Andrew Leicht installed a remote door security and intercom system for Saint Raphael's church.
Troop 105 was especially honored to welcome Bren Vallier into the troop this past year so he could complete his Eagle project after his recent relocation into the Santa Barbara area.
Troop 105 meets every Wednesday (except holidays) at 7:00 p.m. in the Multi-purpose Room at the Parish Community Center of St. Raphael Catholic Church, 5444 Hollister Avenue, Goleta and chartered to the Knights of Columbus, Goleta Valley Council 5300.
Troop 105 is open to all boys who are 11 years old

, or who has completed the fifth grade or earned the Arrow of Light Award and is at least 10 years old, but is not yet 18 years old. For information about Troop 105 go to: http://goleta105.com

Yours in Scouting,
Kathy Mora Patmore, DDS
South Coast District, Troop 105, Committee Secretary
---
ScoutStuff.org

has been completely revamped from top to bottom, with a fresh new look, more intuitive navigation, and a one-stop account dashboard.
National Eagle Scout Association
Founded in 1972, the National Eagle Scout Association maintains contact with Eagle Scouts to sustain their interest in Scouting.
Eagle Scouts in good standing may join.
Applications for membership are available through:

Local council
The NESA Web page
Contacting Alumni Relations at the national office

For more information, visit the official NESA website at www.nesa.org .
---
Del Norte Cub Scout Day Camp
On June 20 to 24 Del Norte Distrrict held Cub Scout Day Camp centered around a Frontier Days theme. With 126 Cubs Scouts attending, it was the largest day camp ever for the Del Norte District. Even with the added Cub Scout participants, things went remarkably smooth due to the large number of dedicated adult volunteers and Boy Scouts.
So who helped to make Cub Scout Day Camp a success? Would you believe close to 100 adult volunteers. Some worked every day, others just a few days. There were also a couple dozen Boys Scouts working as Den Chiefs. The Boy Scouts came from troops 60, 434, 6, 123, 226, 155, and Venturing Crew 6911. Good Boy Scouts and Venturers from good Boy Scout Troops & Venturing Crew!
Each day of day camp had five daily program rotation areas for our Cub Scouts that included science, sports, Scout skills, crafts, archery and BB gun ranges. All events were conducted by dedicated and qualified volunteers.
In addition::
On three different days we had lunchtime visits from the Paso Robles Fire Department. They gave a spray of cool water shot from their fire truck. This was much to the delight of our Cub Scouts who were pretty hot. Day time temperatures were over 100 degrees!
An inflatable obstacle course on the first of camp was used by all our Cub Scouts during their sports rotation.
Harris Stage Lines donated their time and came with Tommy and Cactus Harris who gave a whip and rope demonstration during lunch on Tuesday.
We had a very popular climbing wall. Cub Scouts like to climb!
A trading post was a new addition for our district day camp. Scout supplies, inexpensive theme related toys, and edible treats were popular items at the trading post.
Star Farms donated their facility for swimming and a BBQ on Friday.
The success of the 2011 Del Norte District Cub Scout Day Camp was built on the previous 5 years hard work of Ashley White, Day Camp Director and Erin Younger, Program Director from 2006 to 2010. They both deserve great credit for leading such a fine program during the past 5 years.
We would also like to thank Dennis Swanson of Studio 101 West for all the great pictures he took of our Cub Scouts having fun. Pictures from the day camp are available for purchase on line at...
http://photos.studio101west.com/p1048243171

The Del Norte District Day Camp leadership team is looking to fill the position of program director. The program director will receive full training and support from the district and will work closely with the camp director and program leads. If you or someone you know might be interested in this position please contact Samantha Dole at 461-0863.
Yours in Scouting,
Samantha Dole
Del Norte District
Day Camp Director
---

Los Padres Council Annual Report

The Los Padres Council has a lot to be proud of as we look back on Scouting's centennial year. Throughout 2010, Scouts, families and friends joined in on a year-long celebration of what Scouting stands for – developing youth to turn struggles into courage, self-doubt into self-esteem, challenges into opportunities and indecision into leadership.

Scouting's goal is to open up a world of possibilities for America's youth. We are pleased to report that the Los Padres Council did just that by continuing to grow and strengthen through the delivery of more value-based programs to the youth and their families in Santa Barbara and San Luis Obispo counties.

2010 Programs

756 Boy Scouts attended a summer camp program
530 Cub Scouts attended a Cub Scout: Day Camp, Resident Camp or Family Camp
40 Boy Scouts completed the National Youth Leadership Training (NYLT)
36 Boy Scouts attended the National Jamboree at Fort A.P. Hill Virginia

Aside from the year long 100th Anniversary celebration, we accomplished many objectives in 2010 that helped to build the council and the Scouting program stronger for the next 100 years!

The council balanced the budget thanks in part to Friends of Scouting, popcorn, special events, camping revenue, foundation grants and bequest.
A full team of Scouting professionals were hired to provide direct service to units.
Conducted multiple trainings throughout the year, including first Cub Scout Leader Pow Wow in over 10 years.
7% of our registered Boy Scouts attained the rank of Eagle Scout. The Eagle Scout rank is earned by only 5 percent of Boy Scouts each year. (Source: National Eagle Scout Association)
Chumash Lodge of the Order of the Arrow earned Quality Lodge for the third year in a row.
Expanded service operations in the Santa Maria area by moving service center to the Town Center Mall.
Fireside Chats were held within each district by the council key leadership to acquire feedback on a strategic plan.

To see the complete Los Padres Council annual report, click here If you desire a written copy mailed to you, contact me.

Yours in Scouting,
Scout Executive, Rebecca Fields
rfields@bsamail.org

---

Understand Heat Index and Hydration

It's easy to get caught up in a Scouting activity on a hot summer day and not pay attention to how the heat is affecting your body. Heat index is defined by the National Oceanic and Atmospheric Administration as "a measure of how hot it really feels when relative humidity is factored with the actual air temperature."

The heat index/urine color chart , which can be downloaded and used to produce a sticker, pocket card, or hang tag, describes situations when you should increase your rest and water intake. Tools such as this will help you pay attention to the warning signs.

For additional information on heat, we recommend National Oceanic and Atmospheric Administration Heat Watch , and for staff members the Occupational Health and Safety Administration's recently published Campaign to Prevent Heat Illness in Outdoor Workers.

Best Practices: Heat Injury Prevention Pocket Guide

Information taken from BSA National Web site

---

September is - National Preparedness Month!

A time to remember. - A time to prepare.

September is National Preparedness Month (NPM)! This awareness month is sponsored by the Ready Campaign in partnership with Citizen Corps. NPM is held each September and is designed to encourage Americans to take simple steps to prepare for emergencies in their homes, businesses, and communities.

Not only do the Health and Safety, Risk Management teams and the Boy Scouts of America suggest that you spend some time making sure your family has an emergency preparedness kit, makes a plan, and stays informed, but they also encourage you to build readiness among your neighbors and across the community.

To support National Preparedness Month, the Boy Scouts of America is encouraging Scouts and volunteers to focus on earning the Emergency Preparedness BSA Award. The award was developed at the request of the Department of Homeland Security and introduced in 2003.

Information on NPM can be found on www.ready.gov or directly at the NPM Web site.

Information on the BSA Emergency Preparedness Award can be found here on www.scouting.org

Download the Emergency Preparedness Award application form

Program Items

All Emergency Preparedness BSA items are available to local councils as Supply items, though the National Distribution Center.

---

The Shoot-O-Rama
is being supported by
Hogue Hand Gun Grips


Shoot-O-Rama

August 12 to 14
San Luis Obispo Sportsman's Association

On August 12 – 14 Scouts and leaders are invited to come to the San Luis Obispo Sportsman's Association's Hogue Action Pistol Range for a weekend of shooting! Scouts will be able to shoot .22 caliber rifles, shotguns, field archery, and even black powder!

Location: San Luis Obispo Sportsman's Association,3270 Gilardi Rd, San Luis Obispo, CA

Scoutmasters and other leaders can take classes to become an NRA Certified Range Safety Officer and Rifle Instructor! That means that you'll be able to go on shooting sports activities with your Troop at the SLO Sportsman's range!

Scouts and leaders may camp at the range, and provide their own food. Shooting venues will be open all day Saturday for Scouts while adults will be in training. During lunch Saturday everyone can watch professionals show off their skills in competitive pistol shooting, cowboy action, and many more!

Space is limited so sign up now at lpcbsa.org. There will also be competitions for scouts with fantastic prizes! We need help to organize/run this awesome event. To be on staff, contact the people below.

Camino Real District, Program Chair
Nick Hellewell – 805-242-2511
explodingvarmit@yahoo.com

---

Spurs & Spice Gourmet Tailgate Party!

Saturday, September 10 from 5 p.m. to 8 p.m.
at the La Purisima Mission

Guaranteed to be a good time with honorary hosts, Jay and Niki in the Morning from Sunny Country 102.5.

Feast on Gourmet Tailgate food, beer, and wine. Try your luck at cowboy games. How about a round of cow bingo anyone?

Take a chance on some incredible live and silent auction items. All this and a beautiful night at the La Purisima Mission on Saturday, September 10!

Tickets run $80 individual, $150 a couple. Sponsorships available!

For more information, contact Ventura DeLeon at 805-925-1955 or vdeleon@bsamail.org. To register for this event or find out more about it, click here.

This event benefits Scouting in the Los Padres Council. Your support is very much appreciated!

Yours in Scouting,
Ventura DeLeon
District Executive, Live Oak District
vdeleon@bsamail.org
805-925-1955

---

Los Padres Council News - Views

Since the publication of our new Los Padres Council News electronic newsletter began, in March 2011 of this year, views (readers) of our newsletter has been growing. The July edition generated a big jump in views and this graph will give you an idea of how fast the readership is growing.

Our expectation is for this readership trend to continue, with your help. Interested in submitting content ideas or stories for our newsletter? Our Scouting Media Guide should help you.

You can submit your content ideas for the Los Padres Council News by e-mail to the Newsletter Editor,
Rick Pushies postmaster@lospadresbsa.org

---

Are You Weather Smart?

The Health and Safety and Risk Management Teams, who bring you Scouting Safely, have heard your request.

Planning and Preparing for Hazardous Weather is now available for you to do training in your unit, district, and council. This training is required for at least one leader before taking your unit on a tour, but more importantly, it is knowledge that we all can use to manage risks to our Scouting family in the outdoor classroom at olc.scouting.organd just sign in to your MyScouting account.

BSA 2010 National Youth Forum - Don Elium,
"Understanding and Supporting Boys"

Don Elium is a family therapist and the author of "Raising a Son."

View what national experts say about youth wants and needs that will help the BSA achieve this key objective of the Strategic Plan.

If you are interested in viewing all of the speakers, you can also view each speaker's highlights at the

National Youth Forum site.

Information from scout-wire.org

---

Chumash Lodge 90 History

The Order of the Arrow is recognized as Scouting's National Honor Society. Each local Boy Scout council is encouraged to have an Order of the Arrow lodge. Each lodge is granted a charter from the National Council, BSA, upon annual application. The OA lodge helps the local council provide a quality Scouting program through recognition of Scouting spirit and performance, development of youth leadership and service, promotion of Scout camping and outdoor programs, and enhancement of membership tenure.

The Chumash Lodge 90 was created when the Mission Council, which served Santa Barbara County and Santa Lucia Council, which served San Luis Obispo County merged to form the Los Padres Council in January 1994. The Chumash Lodge #304 from the Santa Lucia Council and the Canaliño Lodge #90 from the Mission Council were combined to form our new lodge, Chumash Lodge 90 which serves both San Luis Obispo and Santa Barbara Counties. The name of one lodge and the number of the other lodge were used to form the new lodge name, Chumash Lodge 90. This new name gives members from each of the former lodges a sense of ownership in the new lodge name.

Chumash Lodge 90 continues to pursue the Order of the Arrow's worthy purpose.

The purpose of the Order of the Arrow is fourfold:

1. To recognize those Scout campers who best exemplify the Scout Oath and Law in their daily lives
2. To develop and maintain camping traditions and spirit
3. To promote Scout camping
4. To crystallize the Scout habit of helpfulness into a life purpose of leadership in cheerful service to others.

---

Quotation of Month

"You never know how strong you are until being strong is your only choice."

Author unknown.

---

Web Site of the Month

Hands and Hearts

In October, the American Heart Association issued new guidelines for CPR and ECC (emergency cardiovascular care), calling for a change in the CPR sequence from A-B-C (airway, breathing, chest compressions) to C-A-B (chest compressions, airway, breathing) for adults, children, and infants.

The letters sound simple enough, but according to the AHA, the new model "will require re-education of everyone who has ever learned CPR." And, of course, that includes Scouters and youths.

Richard Bourlon, head of the BSA's Health and Safety team, notes that many Scouters will begin learning the new methods as they take training programs through organizations like the American Red Cross. But he cautions that even with the new guidelines, Scout leaders and Scouts still need to use good judgment depending on the person in trouble and the circumstances.

"Many people are asking, 'Does that mean I don't have to do rescue breaths anymore?'" says Bourlon. "But [the new CPR sequence] isn't one size fits all." He adds that 325,000 people a year die of sudden cardiac arrest, but only a small percentage of those are youth. "Compression-only may be great for a Scouter who collapses at your meeting, but what about a Scout who rescues a drowning victim? They need air. With our youth and with our Scouting family, we have both exposures."

For more on the new CPR guidelines, go to heart.org.

http://www.scoutingmagazine.org/issues/1101/d-trailhead.html

---

Video of Month

Scouting Safety Begins with Leadership Video

Experience has shown that the vast majority of serious injuries and fatalities reported to the National Health and Safety Service occurred in unit-related activities conducted off council properties. The safety message in this video is important because

"Safe Activities are Great Activities."

---

Council Service Centers

Los Padres Council, Inc. #53
4000 Modoc Road
Santa Barbara, CA 93110
Office: 805-967-0105
Fax: 805-967-5094
Contact Los Padres Council
Santa Maria Service Center
228 Town Center East (2nd floor)
Santa Maria Town Center Mall
Santa Maria, CA 93454
Office: 805-925-1955
Fax: 805-925-9206
Atascadero Service Center
7350 El Camino Real, Suite #201
Atascadero, CA 93422
Office: 805-461-4018
Fax: 805-461-4021

---

emails-subscribe@lospadresbsa.org or emails-unsubscribe@lospadresbsa.org

The Los Padres Council News is brought to you courtesy of Rick Pushies.